Rams Head Group is a family owned & operated, Annapolis-based restaurant and entertainment company. Established in 1989, Rams Head believes in Food, Fun & Beer while giving back to the community in which it serves.
Rams Head Group currently owns and operates four restaurant locations in the region: Rams Head Tavern in Annapolis, MD; Rams Head Roadhouse in Crownsville, MD; Rams Head Shore House in Stevensville, MD; Rams Head Dockside in Glen Burnie, MD.
Additionally, Rams Head operates Rams Head On Stage in Annapolis, Maryland which has been recognized as the Top Club under 500 seats in the world by Pollstar Magazine. Rams Head also provides programming for Maryland Hall for the Creative Arts and St. John's College, both in Annapolis, Maryland; and Key West Theater and Sunset Green Event Lawn in Key West, Florida.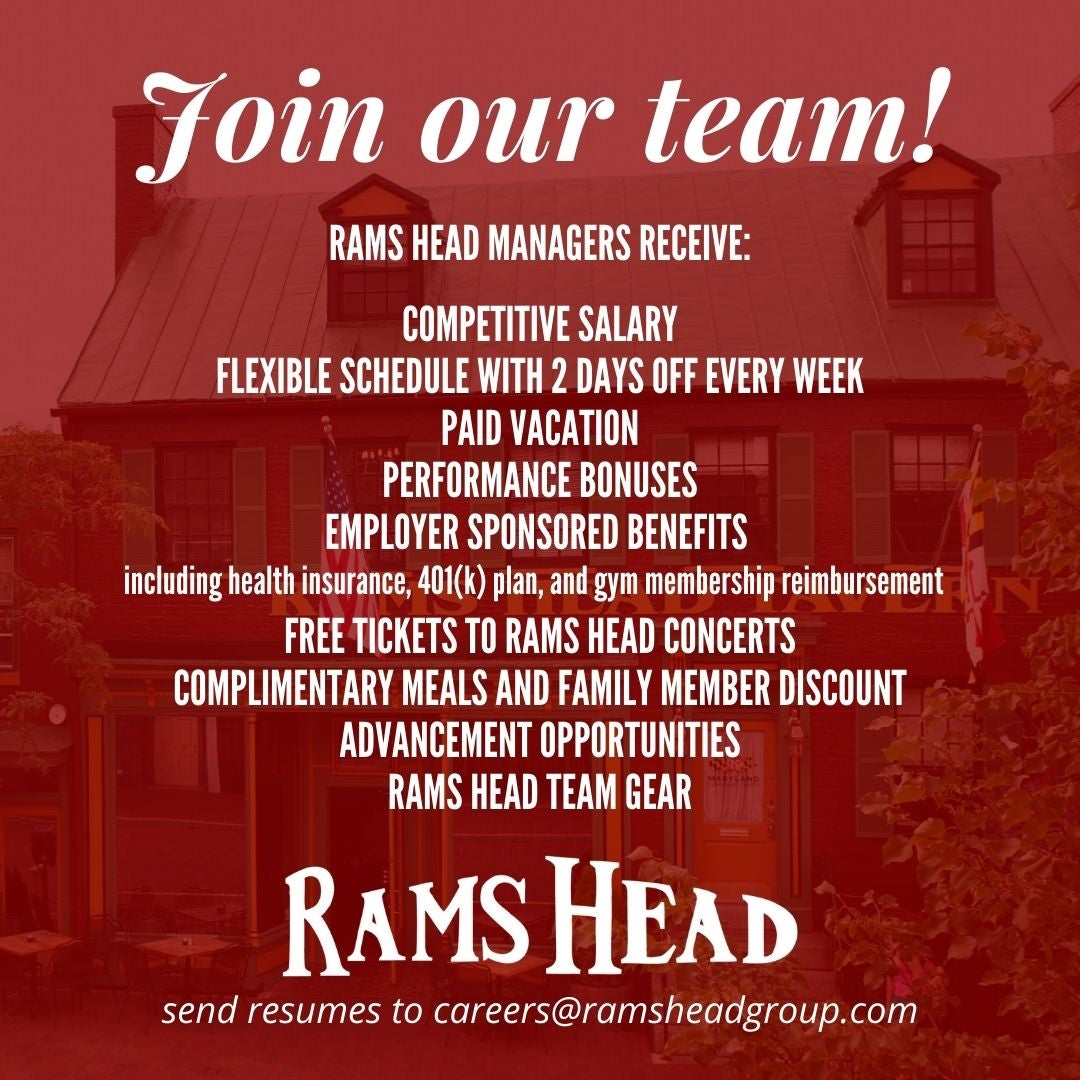 CURRENT MANAGEMENT POSITIONS:
Rams Head Tavern Annapolis and Rams Head Roadhouse are hiring Assistant Managers. Rams Head Shore House is currently hiring a Kitchen Manager.
Additional General Manager information here
Additional Manager information here
Additional Kitchen Manager information here
**Please submit resumes to careers@ramsheadgroup.com
CURRENT STAFF POSITIONS:
Servers, Hosts, Bartenders, Door/Security: Rams Head is now hiring happy, honest, and driven employees to join their team.
All applicants must have flexible and weekend/holiday availability.
Rams Head Tavern Annapolis: Servers, bussers, hosts, cooks
Rams Head Roadhouse: Servers, bussers, hosts
Rams Head Shore House: Servers, bussers, hosts, cooks
Rams Head Dockside: Servers, bussers, hosts
CURRENT RAMS HEAD ON STAGE POSITIONS:
Servers, Box Office Staff, Door Staff, Sound Techs, Equipment Loaders
**Please fill out an application here and visit the restaurant during non-peak hours to apply or send to careers@ramsheadgroup.com