Aug 29, 2023
Annapolis Songwriters Festival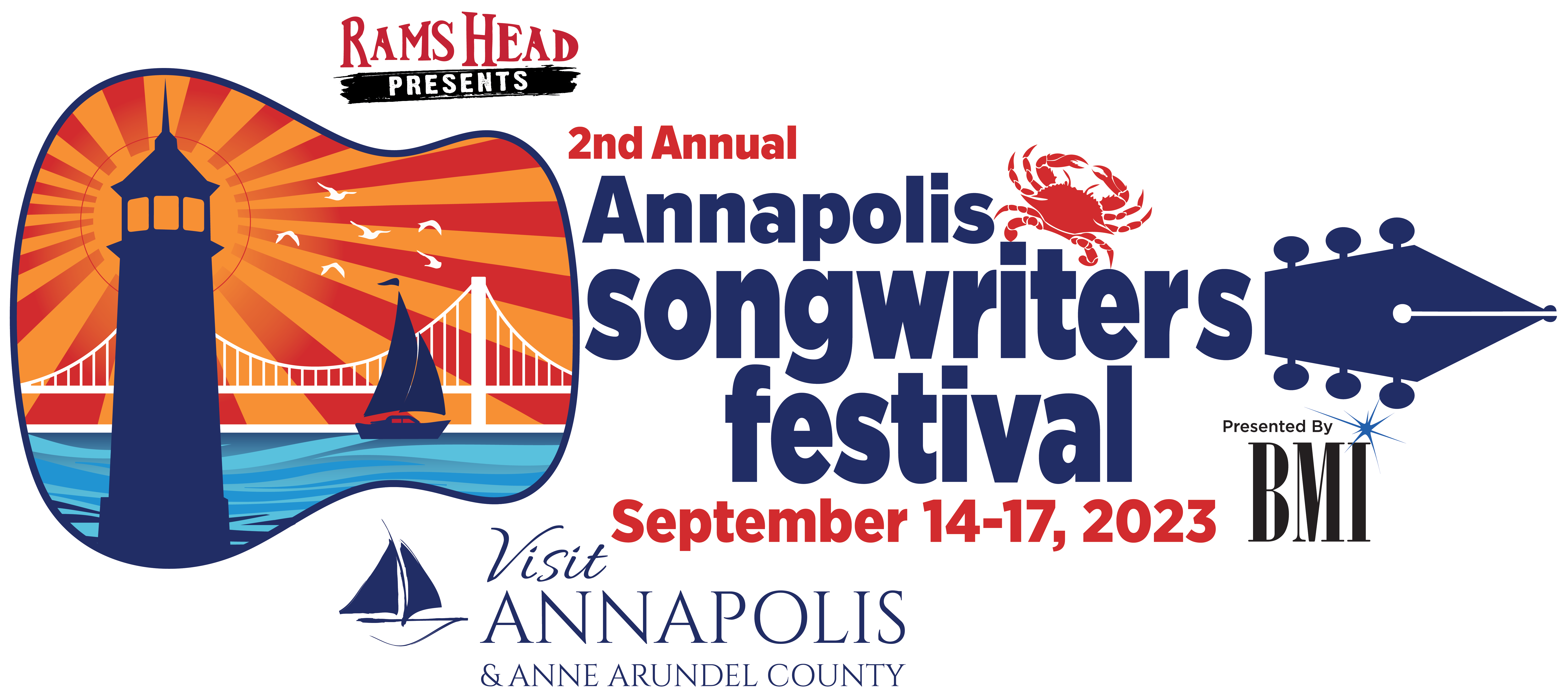 BMI (Broadcast Music Inc.), Rams Head Presents and Visit Annapolis & Anne Arundel County are proud to announce the 2nd annual Annapolis Songwriters Festival (ASF) line-up.
The festival kicks off on Thursday, September 14th, with a special evening event sure to get the crowd excited for a fun-filled weekend of music and will continue with free showcases at several venues across town. Music-filled days on Friday, September 15th, Saturday, September 16th, and now Sunday, September 17th will offer concertgoers an opportunity to attend both ticketed and free showcases in a walkable area with unique stops along the way featuring all the iconic venues Annapolis has to offer. The festival will close at City Dock with an all-ages show featuring Grammy Award winning superstar, LeAnn Rimes.
Venues include restaurants, shops, and landmarks while festival-goers make their way along "songwriters trail" from Metropolitan Kitchen to The Garden at Market Space. Free showcases lead visitors to spaces at Rams Head Tavern, The Graduate Hotel, The Capital Hotel, Stan & Joe's, The King of France Tavern, and Red Red Wine Bar. The ASF app, coming soon to the Apple App Store and Google Play Store, provides a complete schedule of 2023 programming, broken down by time and event category, with the ability to build a customized schedule.
The Annapolis Songwriters Festival is modeled after the hugely successful Key West Songwriters Festival, which in its 27th year, continues to be the largest festival of its kind in the world. Highlighting the specialized craft that is the essence of music, this festival aims to give music lovers a chance to get to know the names and faces behind the songs in an up-close and personal setting.
Tickets for Blondie, LeAnn Rimes, Patty Griffin with special guest Jonatha Brooke, Marty Stuart, Amanda Shires, and James McMurtry will go on sale July 14th at 12 PM. Additional featured acts include Ronnie Bowman, Rebecca Lynn Howard, Earl Bud Lee, Tommy Sims, Jeffrey Steele, and Heath Warren with additional acts to be announced. Tickets and more information at https://www.annapolissongwritersfestival.com/
Thurs. Sept. 14
Amanda Shires at Rams Head On Stage (21+)
Michelle Branch at Maryland Hall (ALL AGES)

Fri. Sept. 15
Blondie at Annapolis City Dock (ALL AGES)
James McMurtry at Rams Head On Stage (ALL AGES)
The Chattahoochies at Rams Head On Stage (21+)
Songwriters on the Severn w. The Young Fables, Striking Matches, Thom & Coley at Watermark Cruises

Sat. Sept. 16
Marty Stuart & His Fabulous Superlatives at Maryland Hall
K. Michelle: Unplugged at Rams Head On Stage

Sun. Sept. 17
LeAnn Rimes at Annapolis City Dock (ALL AGES)
Patty Griffin & Jonatha Brooke at Maryland Hall (ALL AGES)
Don't miss all of the FREE showcases from the following songwriters throughout the weekend!
Abe Partridge
Alec Lytle
Anthony Smith
Autumn Nicholas
Arlis Albritton
Ava Suppelsa
Bonnie Steward
Braison Cyrus
Brad Hutsell
Cat Ridgeway
Catterina
Chris Shupe
Claudia Hoyser
Dan Navarro
Earl Bud Lee
Elisha Hoffman
Grace West
Harper Grae
Heath Warren
Jacob Rice
Jesse Lynn Madera
Jet Harvey
Jillian Cardarelli
Jeff Middleton
Julia Cole
Justin Klump
Justin Schools
Justin Wilson
Keesy Timmer
Kelly Paige
Kristen McNamara
Lenny Pey
Lewis Brice
Maggie Antone
Maggie Maugh
Mel Washington
Nick Autry
Paul Guzzone
Poet Hawkins
Rich Lafleur
Robynn Shayne
Sara Jean Kelley
Shy Carter
Tianna Esperanza
Tony Evans Jr
Tori Tullier
Twinnie
Zandi Holup
Plus more to be announced!
Sign-up for the Annapolis Songwriters Festival newsletter and follow them on Instagram and Facebook​​​​ to stay up to date on the whole weekend!