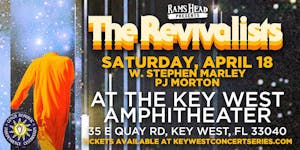 The Revivalists w/ Stephen Marley & PJ Morton at The Key West Amphitheater
The Revivalists, Stephen Marley, PJ Morton
Key West Amphitheater at Truman Waterfront
Key West
,
FL
$55.00 - $85.00
Postponed
The Revivalists at The Key West Amphitheater!
Any tickets suspected of being purchased for the sole purpose of reselling can be cancelled at the discretion of Rams Head/Eventbrite. All sales are final. Rams Head does not offer refunds. Refunds are only available for cancelled shows.
Some people say 'luck is the intersection of hard work and opportunity'. On their fourth full-length album and first for Loma Vista Recordings, The Revivalists chronicle, catalog, and capture an unbelievable ride where ten years of tireless hard work would be unexpectedly revved up by the wrongly dubbed "overnight success" of the gold-selling number one single "Wish I Knew You." Like any enduring band worth its salt, they reacted the best way possible to newfound popularity - by buckling down and turning up with an album chock full of tunes worthy of even greater success. It's the result of a trip that unassumingly commenced in 2008 with hundreds of underground shows yearly and culminated 10 years later with not only "Wish I Knew You," but three years of back-to-back sold out headline tours. In life, like rock 'n' roll, some questions get answered while others stay unanswered. Our personal backroads tuck, twist, and turn through ups, downs, and everything in between at light speed, sometimes without explanation or a moment for reflection. Mirroring the push-and-pull of the past few years, the boys—David Shaw [lead vocals, guitar], Zack Feinberg [guitar], Andrew Campanelli [drums], George Gekas [bass], Ed Williams [pedal steel guitar], Rob Ingraham [saxophone], Michael Giradot [keyboard, trumpet], and PJ Howard [drums, percussion]—deliver a bevy of anthems marked by moments of sonic complexity, celebration, and catharsis.
"As far as the music goes, sometimes I just have a feeling, and it comes through in a song," says David. "I don't know what it is, but it makes me feel something. I wanted this album to be simply about that. Making the new music has been a bit of a cathartic process for me—just to get some of these feelings out, lose myself in the art, and become someone else. Songwriting is the great escape. It's where I can be who I want to be. It's been three years of touring our asses off, writing in between, and honing our craft. Then, 'Wish I Knew You' happened. Everything got even crazier. This album basically came together the way we always make records though. It's simply a collection of songs from where we were at that point in our lives. We didn't want to divert too much from what we've always been, but we wanted to take it to the next level and continue that trajectory of our artistry and creativity."
Simultaneously, life was rapidly changing around the band, and the music spoke to that.
"Everything going on these past few years certainly informed the direction," David continues. "I don't know if I was ready for some of what transpired emotionally. I got personal on some of the songs. I said some things I might not have otherwise. Thankfully, I have a good family network and amazing girlfriend to balance all of the changes."
"We were fortunate enough to have this 'hit' on the last record, and things have changed," adds Andrew. "We had to keep pushing forward."
For the first time, The Revivalists recorded and co-wrote with multiple producers and writers, enlisting the talents of Dave Cobb [Sturgill Simpson, Chris Stapleton], Andrew Dawson [Kanye West, Fun., Sleigh Bells], and Dave Bassett [Elle King, Vance Joy] for sessions in New Orleans and Nashville, which became a hub for the band. They spent three weeks recording at the iconic RCA Studio B, soaking up the aura of one of the most storied studios in music and the city's rich musical history. Additionally, it would be the first record with drummer/percussionist PJ joining the band in the studio.
Bringing sixty songs to the table, the guys whittled the batch down to the best fourteen of the bunch.
Andrew continues, "On the first few records, we were figuring out what our identity is, so we were really involved in the minutia of recording. After all this time, we have an identity, and it's more based in our songs. We were able to let go and allow these producers to take us into a direction that we wouldn't go on our own. We got to explore a little more. Being ten years in empowered us to do that."
"We had the opportunity to work with more people, which was amazing," David goes on. "The main difference was having this team and the chance to co-write. It really elevated our craft in a way that I don't think we ever thought about previously. We were all working together in the studio, while keeping the true heart and soul of the band intact through the whole process."
The first single "All My Friends" speaks to that spirit. Driven by swaggering piano, boisterous horns, and bluesy leads, the track swings towards an unshakable chant, "All my friends take good care of me." Striking, sharp, and soulful, it introduces this chapter with confidence and charisma.
"I actually wrote those verses when I was 27," says David. "I met up with Dave Bassett in Malibu where I did some writing sessions, and I brought the lyrics to the table. It's a bit of a retrospective look back. You're in your twenties, staying out for three days, not contacting your significant other, and getting into some bad shit. Looking back, I realized, I had an amazing group of friends who stuck by my side."
"Musically, it bridges the gap between what we've been doing and what you're about to hear," explains Andrew.
Representing a vast swath of the country and defying regional pigeonholes, David's roots are in the Rust Belt, while Zack, Ed, and George hail from the Tri-States and Michael and Rob from the Southwest. Andrew cut his teeth bashing the drums in the DC scene and newcomer PJ made his bones in Chicago. However, The Crescent City would ultimately bring them together. Since forming in New Orleans, the group quietly grinded towards international ubiquity one gig, song, and album at a time. Seven years in, 2015's Men Amongst Mountains represented a high watermark. Its lead single "Wish I Knew You" became a slow-burning hit, racking up more than 200 million streams and ascending to #1 on Adult Alternative and Alternative radio. On the latter, it clocked a record for "most single-week spins ever at the format" before eventually receiving a gold certification from the RIAA. A mainstream phenomenon, the song found traction at Hot AC and Top 40 and bubbled up on to the Billboard Hot 100 for nine weeks as the band made the rounds on television with performances on Today, Jimmy Kimmel LIVE!, Ellen, and Conan. Acclaim came from USA Today, Entertainment Weekly, Forbes, Flaunt, Buzzfeed, Uproxx, Billboard, and more with Rolling Stone touting them among "10 Artists You Need To Know." Along the way, they garnered a Billboard Music Awards nomination and two nods at the iHeartRadio Music Awards. Between countless gigs, the musicians also ignited festival stages at Bonnaroo, Governor's Ball, New Orleans Jazz Fest, Outside Lands, and Pilgrimage, to name a few.
Looking back, the frontman smiles, "It's been quite the ride."
In the end, The Revivalists welcome listeners on this journey with them as they set out with a newfound depth and ambition.
"As we went along, we found there are more questions than answers, and we're all sort of figuring it out," concludes Andrew. "We're all doing the same thing. We hope people listen to the record and maybe can go out and keep making connections. That's what we're supposed to do. It's the human experience."
"We're in this together," David leaves off. "We love to take people on an emotional rollercoaster with us. That's what this record is. It's who we are. There's some real magic in that."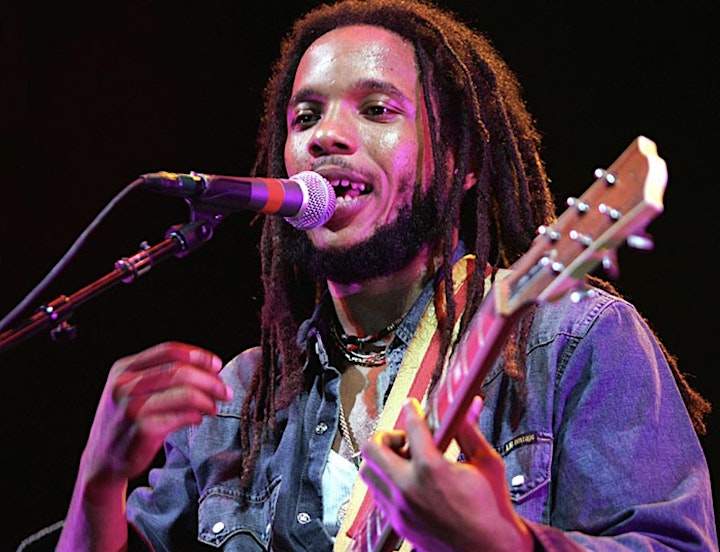 Stephen Marley
The second son of Bob and Rita Marley, eight time Grammy winning musician and producer Stephen was born on April 20, 1972; he began his career as a precocious six-year old singing, dancing and playing percussion with his siblings in the group The Melody Makers whose first single "Children Playing in The Streets" was produced by their father in 1979 and released on Tuff Gong, the label founded by Bob in the late 60s. While still a teenager he assisted in the production of The Melody Makers' albums including their three Best Reggae Album Grammy winners "Conscious Party" (Virgin Records, 1989) "One Bright Day" (Virgin Records, 1990) and "Fallen Is Babylon" (Elektra Entertainment, 1998).
In 1993 Ziggy and Stephen founded Ghetto Youths International as a means of controlling their own music and helping upcoming artists. Stephen's earliest solo production efforts for Ghetto Youths International includes his late grandmother's (Cedella Booker) album "My Altar", followed in 1995 by the Ziggy Marley and The Melody Makers single "Works To Do" and younger brother Damian's "10,000 Chariots". In 1996 Damian released his debut album "Mr. Marley", on the Ghetto Youths imprint, on which Stephen played several instruments and wrote most of the songs, as well as producing the album.
The first project that brought Stephen's production capabilities widespread attention was "Chant Down Babylon", where he audaciously manipulated his father's original vocal outtakes from the 1970s Island Records' sessions, splicing them into duets with hip-hop and R&B artists, while updating the Wailers' richly textured one-drop rhythms with an assortment of samples, loops and overdubs. "Chant Down Babylon" achieved its objective of bringing Bob's music to a new generation of fans, earned a Grammy nomination, was certified Gold by the Recording Industry Association of America and has sold more than one million copies worldwide.
Stephen's hip-hop infused dancehall beats were far more fluid and complex on Damian's 2001 album "Half Way Tree" (Ghetto Youths/Motown), demonstrating Stephen's equal dexterity in creating rugged roots reggae rhythms, which supported the well-crafted, substantial lyrics and Damian's vocal flow. "Half Way Tree" yielded several hits in Jamaica, and internationally, including "More Justice" and "It Was Written" (featuring Capleton) and won the 2002 Grammy for Best Reggae album.
Stephen produced and contributed vocals to Damian's single "Welcome to Jamrock", the biggest reggae song of 2005 and still very popular today. Released in September 2005, "Welcome To Jamrock" (Tuff Gong/Ghetto Youths/Universal Republic) entered the Billboard Top 200 Albums Chart at No. 7, a record setting opening week for a reggae artist; it was certified Gold and won the 2006 Reggae Album Grammy while the single was honored for the Best Alternative Hip Hop performance, another first for a Jamaican artist.
The success of "Welcome to Jamrock" increased the anticipation surrounding the release of Stephen's first solo effort- "Mind Control" –which won a Grammy for Best Reggae Album in 2007. In 2008, Marley released a refreshing version of the hit album with an acoustic version that gained the artist another Grammy for Best Reggae Album.
In 2011 Stephen released his third solo album- "The Revelation, Pt.1: The Root of Life" that reconfirmed Stephen's expansive capabilities as an affecting vocalist, a versatile lyricist and an accomplished instrumentalist while furthering his renown as an ingenious producer.
Stephen continued to showcase his talent for navigating between genres by effortlessly blending reggae with soul, hip hop and electronic beats on his fourth solo album; "Revelation Part II: The Fruit of Life," released in 2016. A robust reflection of his work, the album features songs with notable artists including; Rakim, Dead Prez, Wyclef Jean, Black Thought, Shaggy, Pitbull, Damian "Jr. Gong" Marley and more.
For the past two years, Stephen and his team worked on the development production and promotion of the annual Kaya Fest. Now in its third year, the Kaya Fest is a music and awareness festival intended to educate the public on the many benefits of Cannabis. In 2019 the festival will expand with showcases in both Florida and Southern California.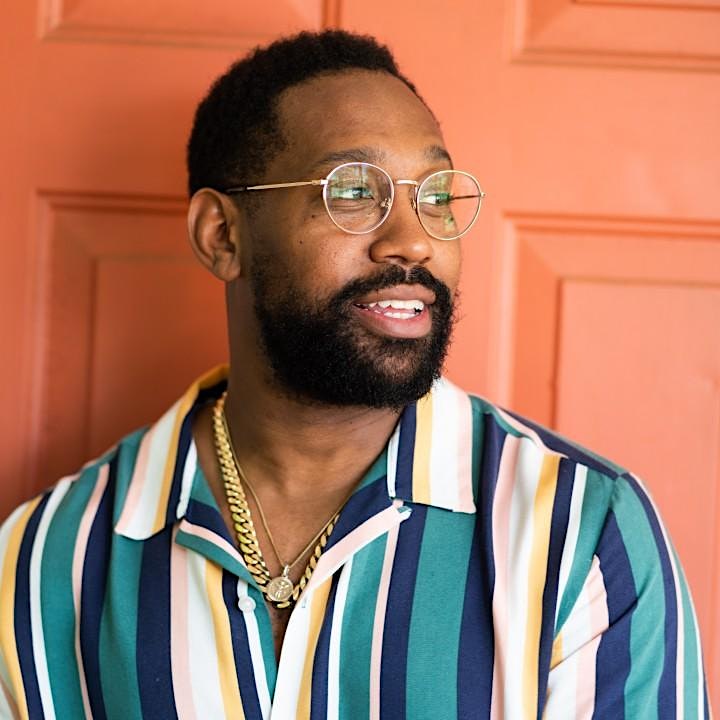 PJ Morton

It all starts and ends with the music.

For PJ Morton, the songs, records, and shows say everything that needs to be said -- and more. Whether performing, playing, or producing, the GRAMMY® Award- and Dove® Award-winning singer, songwriter, producer, multi-instrumentalist, Morton Records founder, and Maroon 5 keyboardist fills one timeless role most comfortably, that of a "Music Man."

In doing so, he consistently crafts work of a classic caliber on stage and in the studio.

"I've been blessed to communicate through songs better than words or anything else," he admits. "I believe in the power of music and honesty. When those two things come together, there's nothing more powerful. I endeavor to be a true 'Music Man' who loves these instruments and the lineage that got us here. It doesn't matter if I'm putting out another artist on my label, making material of my own, producing someone else, or in Maroon 5, I'm a 'Music Man' in every way."

2019 upheld this claim for Morton. Recorded live in New York and released under his own New Orleans-based Morton Records, Gumbo Unplugged garnered three 2019 GRAMMY® Award nominations -- "Best R&B Album," "Best Traditional R&B Performance" for "How Deep Is Your Love" [feat. Yebba], and "Best R&B Performance" for "First Began" -- and brought his total back-to-back tally of solo nominations to five, including a pair of 2018 GRAMMY® nods for the original Gumbo. Just a week prior to the ceremony, he walked on to the world's biggest stage and delivered a historic performance alongside Maroon 5 at Super Bowl LIII.

These moments marked a much-deserved victory lap for the consummate musician. Throughout 2018, he continued a steady expansion of his growing discography. He composed the score for YouTube Premium's critically acclaimed comedy series Champaign ILL and penned the theme to OWN's Ready to Love. Not to mention, he wrapped up a heartfelt holiday album, Christmas With PJ Morton, which Entertainment Weekly dubbed "this year's surprise stocking stuffer." He touched down on a total of four continents during the six-month Gumbo World Tour, selling out gigs everywhere from Spain and Japan to Seoul, Korea.

At the same time, he focused on further building his company. He grew the roster by way of flagship signings The Amours and producer Erick Bardales. Two Washington D.C.-bred sisters, The Amours traveled the world as part of the label founder's band and could be heard on Gumbo Unplugged as backing vocalists. As Morton manned the board as producer and executive producer back in New Orleans, the pair cooked up a striking, simmering, and soulful debut for 2019.

"Morton Records is starting to become what I envisioned it to be outside of my solo records," he explains. "I really want to help other artists achieve success in their careers. I want to spotlight New Orleans talent, and I also want to give writers and producers a platform. I signed Erick first. After spending so much time on the road alongside The Amours, I really got to know them. It goes without saying they're talented, but their character interested me more than anything else. We have a connection. It felt like an organic, natural progression for them to be my first artist."

Morton has quietly, independently, and humbly secured his position at the forefront of 21st century soul and R&B. In 2017, Gumbo bowed in the Top 10 of the Billboard Heatseekers Albums Chart and received praise from The Washington Post and The Advocate, to name a few. Generating over 30 million cumulative streams in under three years, he regularly averages over half-a-million monthly listeners on Spotify. Meanwhile, 2013's New Orleans received a 2014 GRAMMY® Award nomination in the category of "Best R&B Song" for "Only One" [feat. Stevie Wonder]. Putting it best, Pitchfork described the project as "a smooth and soulful pop/R&B hybrid."

In addition to figuring prominently on Maroon 5's multiplatinum Overexposed, V, and Red Pill Blues, he has written and produced for everybody from BJ The Chicago Kid, Jermaine Dupri, and Jazmine Sullivan to Monica and India.Arie, winning a GRAMMY® for collaborating with the latter in 2008. His compositions have also popped up in films such as Couples Retreat and more. Among many other accolades, he has received Dove® and Stellar® Awards, published his literary debut Why Can't I Sing About Love? in 2009, and become music director for Solange following the release of her critically acclaimed opus A Seat At The Table.

In the end, he embodies the spirit of a "Music Man" through and through as he redefines the term for a new era.

"If Gumbo, Gumbo Unplugged, and the label have taught me anything, it's to bet on myself and bet on the things that make me different instead of trying to focus on what could make me the same as other artists," he leaves off. "We're clear and confident about who we are as individuals. The creative freedom extends to Morton Records. I want people to always expect us to do something different, special, and creatively free. I also want to give back to my city and display my passion for New Orleans. It's the best thing I can do with all of this."

Venue Information:
Key West Amphitheater at Truman Waterfront
35 Quay Rd.
Key West, FL, 33040