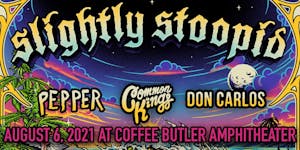 Slightly Stoopid w/ Pepper, Common Kings, and Don Carlos at the Key West Amphitheater
Slightly Stoopid, Pepper, Common Kings, Don Carlos
Key West Amphitheater at Truman Waterfront
Key West
,
FL
$49.50 - $150.00
maintenance
Slightly Stoopid w/ Pepper, Common Kings, and Don Carlos at the Key West Amphitheater!
This show has been rescheduled from August 1st, 2020.
-----------------------------------------------------------------------------------------
Any tickets suspected of being purchased for the sole purpose of reselling can be cancelled at the discretion of Rams Head/Eventbrite. All sales are final. Rams Head does not offer refunds. Refunds are only available for cancelled shows.
Slightly Stoopid
The story of Slightly Stoopid, at its core, is one of brotherhood. It's the story of Miles Doughty and Kyle McDonald, two musicians determined to succeed on their own terms, creating a multi-genre fusion of rock, reggae and blues with hip-hop, funk, American folk, metal, and punk. It's the story of a duo that, has not just survived, but thrived, as "brothers from other mothers"- keeping true to their authenticity, throughout two decades of relentless touring, and evolved songwriting. The duo has repeatedly created lasting artistic statements despite a music industry that too often prioritizes style over substance.
Doughty and McDonald grew up together in the Ocean Beach neighborhood of San Diego. By age 11 they had their first acoustic guitars, bonding over Metallica, Megadeth, and Mötley Crüe. In the mid-1990s they attended Point Loma High School and formed Slightly Stoopid, playing their first gig- a punky and subversive lunchtime set on the quad- that earned them a trip to the vice-principal's office and a reprimand for the trio's explicit lyrics.
As ambitious high school students, they played house parties and small clubs, and met Sublime's Bradley Nowell after attending one of his band's shows. Nowell quickly became a champion of the group's precocious talents, inviting them to play, and signing Slightly Stoopid to his label, Skunk Records. He endorsed them to Michael "Miguel" Happoldt, co-founder of Skunk, who agreed to record the band at Sublime's Fake Nightclub studio in Long Beach. In 1996, they released their debut studio album, the punk-inflected, eponymously titled Slightly Stoopid. Though Nowell had passed away shortly before the record's release, fittingly he appeared, posthumously, on the song, "Prophet."
The surf-inspired follow-up, The Longest Barrel Ride, came in 1998, also on Skunk. The band's first two albums generated regional buzz and motivated the three-piece to load up the van and hit the road. Persistently they ticked off the miles up and down the West Coast, venturing east to Colorado ski towns, playing a circuit of small clubs to small but enthusiastic crowds slowly increasing in size each time around. "Brad and Miguel would always tell us that, to make a name for yourself, you have to get in the van 200-plus days a year," said Doughty in a December 2018 interview. "They would tell us: 'Don't be scared, keep grinding, and build that organic fanbase.'"
An early breakthrough came in 2001, Doughty and McDonald issued Acoustic Roots: Live and Direct, self-released on their own newly formed indie label, Stoopid Records. A 40-minute acoustic, one-take, live radio set captured at San Diego's Rock 105.3 studio, the album demonstrated a profound strength of songwriting and vocals that inspired favorable comparisons to Dave Matthews Band and Jack Johnson. Subsequently, the band expanded, welcoming drummer Ryan Moran, as well as percussionist Oguer "OG" Ocon from The B-Side Players and a horn section from John Brown's Body of C-Money on trumpet and Daniel "Dela" Delacruz on saxophone.
The ensemble's diversity and repertoire encouraged charmed collaborations in the studio, such as with reggae legend Barrington Levy, G. Love (Garrett Dutton) and onstage, with the Marley family, Snoop Dogg, and Cypress Hill. Between 2003 and 2008, the band released four studio albums- Everything You Need, Closer To The Sun, Chronchitis, and Slightly Not Stoned Enough To Eat Breakfast Yet Stoopid- and two live collections: Winter Tour '05-'06 and Live in San Diego, routinely charting on Billboard's Top 100.
Their touring expanded, as well, both domestically and internationally, including sold-out dates in locales from Australia to the Caribbean, Denmark to Japan, Germany to Guam, and the famed festivals of Coachella, Lollapalooza, and New Orleans Jazz Fest, among others.
In 2011, the band taped a performance with the Grateful Dead's Bob Weir, Live at Roberto's TRI Studios, performing alongside Weir, reggae icon Don Carlos (Black Uhuru), and Ivan and Ian Neville (Dumpstaphunk), as well as frequent band contributor and saxophonist Karl Denson (Greyboy All Stars/The Rolling Stones). The TRI appearance echoed the band's longstanding roster of guests that serve, in some ways, as honorary members of Slightly Stoopid, including Carlos, Denson, Chali 2na, and Rashawn Ross (Dave Matthews Band).
They released their seventh studio effort, Top of the World, in 2012, peaking in the top five of several Billboard charts. In 2014, the band hosted its first Closer to the Sun destination event, for what would become an annual multi-day, multi-act festival in Mexico. 2015 saw the release of Meanwhile…Back At The Lab, which embodied instant Stoopid classics "The Prophet", "Rolling Stone" and "Life Rolls On" followed in 2018 with the reggae chart topper Everyday Life, Everyday People that featured guest appearances by Chali 2na, Ali Campbell (UB40), Alborosie, G. Love, Don Carlos, Yellowman, and Sly Dunbar, among others.
Throughout the band's career, Slightly Stoopid has also made a conscious effort to parallel their creative output with charitable work. Doughty and McDonald have often recognized their fortunate positions as an opportunity to give back, proving to be a constant source of inspiration. Perhaps two of the better examples of their philanthropic commitment are their involvement in the fight against pediatric cancer with Candlelighters NYC and Ronald McDonald House- visiting with and hosting affected families at shows, as well as contributing financially to the cause- and the auction of original art used in the "One Bright Day" video; the proceeds from which enabled Global BrightLight Foundation to provide solar installations for electricity in five Third World villages.
Slightly Stoopid is and continues to be a musical brotherhood that always welcomes guest musicians and the art of collaboration. Doughty and McDonald remain unwavering in their principles of independence, honoring their diversity of influences and mentors, and furthering their inherited legacy of the Southern California sound.
"Once we found music as a form of expression, as an outlet, we did whatever it took to survive," said McDonald in a 2018 interview. "We are who we are- a product of Southern California. And, we are where we are in life because of how passionate we are about the music."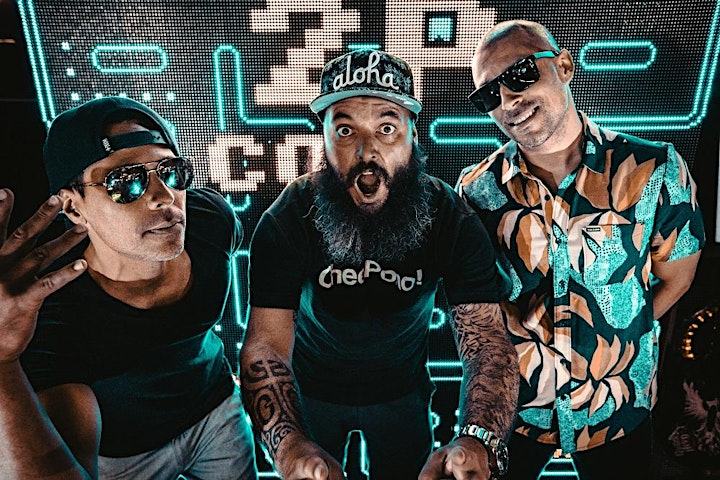 Pepper
Two decades. They've gone by in a blur, filled with soundchecks, encores, album releases, and sold-out shows stretching from the California coastline to the UK mainland. Along the way, Pepper has sharpened its own "Kona dub-rock" sound — a blend of reggae, alternative rock, island rhythms, and punky spirit — while also building a community of fans and likeminded bands.
That communal spirit runs throughout the band's eighth studio album, Local Motion. After sharing shows for years with their heroes and peers, Pepper's three members — vocalist/guitarist Kaleo Wassman, vocalist/bassist Bret Bollinger, and drummer Yesod Williams — are no longer merely artists; they're ambassadors of a scene, bringing people together under an umbrella of positive-minded music and collaboration. Appropriately, they share the spotlight with some of their longtime friends on Local Motion, whose songs feature appearances by Stick Figure, E.N Young, Micah Brown, Iration, The Green, Tribal Seeds, and Reel Big Fish's Billy Kottage. A celebration of artistic synergy, brotherhood, and modern reggae music, Local Motion is Pepper's most collaborative record to date, shining a light not only upon the three bandmates themselves, but also upon the wide community they've helped build.
"We're part of a community of bands who have the same mindset," says Wassman. "They're our peers. They're our friends. We all exist on the same plane, and that's why we called this album Local Motion, because this is our local scene. It's where we fit in."
Before Pepper began building a community in its adopted hometown of Southern California, the group held its very first rehearsal in 1997 in Kailua-Kona, Hawaii. All three members were natives of the Big Island, and together, they made a sound that nodded to their tropical roots while also moving forward into new territory. After earning a local fanbase in Hawaii, they moved to the mainland, where Pepper quickly became a popular live act. Pepper's diverse music allowed the group to tour the country with a wide variety of bands, including reggae icons (The Wailers), punk bands (Pennywise), reggae-rockers (311, Slightly Stoopid), and hip-hop legends (Snoop Dogg). Meanwhile, the band's admiration for DIYminded groups like NOFX inspired Pepper to launch its own label, LAW Records, which gave the trio complete control over its own music. It also allowed the band to sign other acts, which expanded Pepper's circle even further.
For an album that features nearly a dozen guests, Local Motion was appropriately recorded with several producers, including Stick Figure, the English Beat's Wayne Lothian, E.N Young, Henry Fong, Jinco, the Dirty Heads' Dave Foral, and Jungle Josh. Working with a range of collaborators gave Pepper a chance to experiment with new sounds. The result is an album that pays tribute to the band's past while also pushing forward — and, perhaps, hinting at what might be in store for the next 20 years. There's the brass-filled bounce of "Carnaval," the sexed-up swagger of "Sugar (808 remix)," and the summery grooves of "Warning," all wrapped into a tracklist whose songs celebrate the bright side of a life well-lived.
"When we moved to California, we were playing small clubs," remembers Bollinger, who now plays outdoor amphitheaters, indoor theaters, festivals, and other high-capacity venues with his bandmates. "We felt like we were one of the only bands carrying the flag for this genre in America. These days, it's different. We're seeing some real movement within the reggae scene. This sound has become an established part of American music, and we're grateful for the other bands who are flying the flag, too. Everything is connecting. The energy is right. Incorporating those bands into our new record was the perfect alignment of where we need to be."
"In a world of social chaos," adds Yes Williams, "we wanted a 'return to community,' that community being the reggae-rock community. We continue to flourish and grow due to the synergy of likeminded bands and fans. Without each other, we are nothing, fom where the music comes from to where it goes. This record is filtered through the community, a true Local Motion that we are lucky enough to be a part of."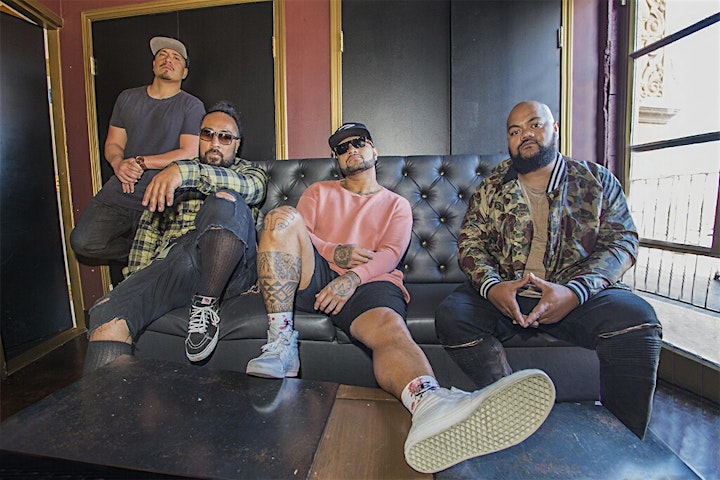 Common Kings
In a saturated musical landscape, Common Kings has carved their own path. The Orange County by way of South Pacific four-piece was nominated for a GRAMMY for their debut album (Lost In Paradise) in 2016 and has been on an upward trajectory ever since. Common Kings followed up with their 2018 EP One Day (Mensch House Records) featuring Stephen Marley, ¡Mayday! and Kat Dahlia, and ended the year supporting Bruno Mars on his sold out Hawaii shows. Since wrapping their tour with Sublime, Common Kings are set to embark on the Croptober Tour with Landon McNamara, Eli-Mac, Big Body Cisco, & Westafa across the West Coast beginning this October in Los Angeles. Fans can expect new music very soon.
Common Kings strikes the perfect balance between R&B, rock, reggae, pop and island influences from the collective minds of JR King (vocals), Mata (guitar), Uncle Lui (bass), and Rome (drums). The amalgamation comes from growing up on healthy doses of Van Morrison, Stevie Wonder, George Benson, Jim Croce, The Who, Led Zeppelin, Gypsy Kings, Earth Wind and Fire, and Bob Marley. These influences originate from each band members love for various genres, and widespread knowledge of music.
With a GRAMMY nomination under their belt, the achievement of reaching 500,000 single downloads, along with their remarkable touring accomplishments (providing direct support for major acts such as opening two sold out shows for Bruno Mars at Aloha Stadium in November, Justin Timberlake's 20/20 World Experience Tour, Meghan Trainor's Untouchable Tour and Matisyahu's 2017 Fall Tour), Common Kings show no signs of slowing down.
"California's Common Kings are a glorious amalgam of all things good in the world." - Musical Notes Global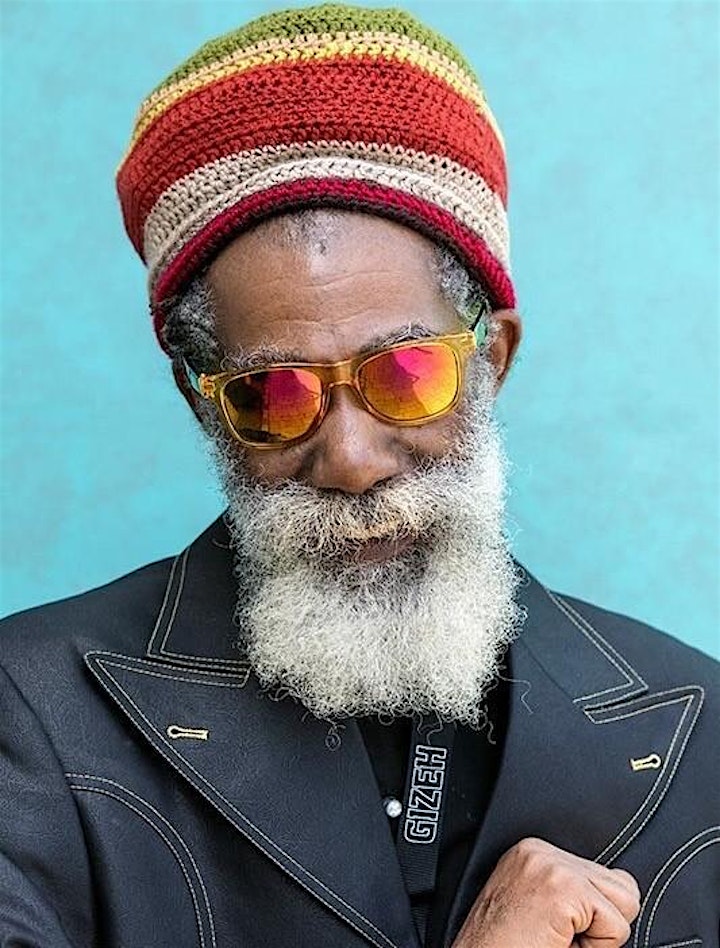 Don Carlos

Don Carlos's given birth name is Euvin Spencer. He was born on June 29th 1952 in the Waterhouse district of Kingston, Jamaica, where he lives to this day. During his youth, Waterhouse was a town where everyone carried a gun, a town when by 6:00 PM not even the Sunset Taxi would enter the Trench, as it came to be known and Don was one of the few who could walk the street at any time of the night. He has 13 children living throughout Jamaica, London, New York and California.

In 1965, Don Carlos made his premier recording at the Federal Studios on Marcus Garvey Drive in Kingston. International exposure started in 1983 when local DJ, Ken Williams had Carlos, along with Reggae artists Ika Mouse and Chalice, play to thousands at an event for Hunters College in Manhattan, New York. Since then his music tours have taken him throughout Africa, Europe, South America, the United States and many Islands in the Atlantic and Pacific Oceans.

Venue Information:
Key West Amphitheater at Truman Waterfront
35 Quay Rd.

Key West, FL, 33040