We have some really great tribute shows coming up this summer that you will not want to miss out on! These tribute bands are not just playing covers of songs, they are the closest you can get to the real deal. Big Heart fan? What about Led Zeppelin, Rolling Stones or U2?! Rams Head On Stage has the ultimate summer line up. Check it out!
Heart Brigade: A Tribute to Heart
Thursday July 3rd at 8pm
You don't want to miss this!! On Thursday, July 3rd at 8pm the Heart Brigade will be rockin' at Rams Head On Stage! Use your Thursday night to throw back to your favorite Heart songs from the 70's and 80's. This ultimate tribute band is NOT just a "cover band"… they are the real deal! Each member honors the true music and appearance of Heart through their various eras.
With Suzi Nelson on lead vocals, you will think you're hearing Ann Wilson herself! Suzi is not afraid to take on the challenge of singing the stronger songs like "Alone," "Barracuda," and "What About Love." And not only does she sing them, she SINGS them! Joan Burton performs Nancy Wilson's signature intricate acoustic and electric guitar licks, as well as vocal lead and harmonies, on such songs as "Crazy on You" and "These Dreams."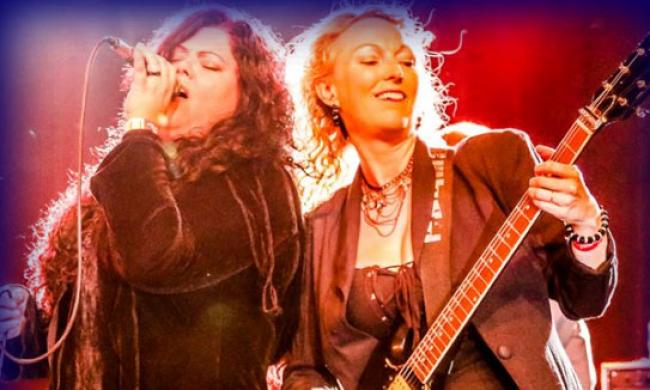 Fans rave about the band's talent and travel far distances just to hear them play. An employee working at a venue of a past performance was faced with many fans questioning if that was the real Heart on stage!
Find out more about Heart Brigade on their website:
heartbrigadeband.com
Or check out their Facebook page:
facebook.com/HeartBrigade
2U: The World's 2nd Best U2 Show
Saturday July 5th 8:30pm
IT'S A BEAUTIFUL DAY! 2U will be at Rams Head On Stage on Saturday July 5th at 8:30pm! These guys do everything in their power to recreate U2 music and give the audience an experience of a lifetime and give you the world 2nd best U2 show!
A man named Gene Marchello plays the role of Bono in 2U and does a phenomenal job representing the band as lead vocalist. He carries the stage presence similar to Bono and keeps the audience energized and entertained.
Impersonators of Bono, The Edge, Adam Clayton, and Larry Mullen Jr. make up the members of the show that will keep you on your feet and clapping your hands! 2U's precise emulation of a U2 live show has earned them a full touring schedule, quite literally world-wide, as the world's 2nd best U2 show, but only second U2. There is no better way to bring the music, visual, emotion, and sheer power of a U2 concert then 2U!
Find out more about 2U at:
notu2.com/Homepage.htm
Tuesday Afternoon: A Tribute to The Moody Blues
Thursday July 10th at 8pm
New York's ONLY tribute band to The Moody Blues is coming here to Rams Head On Stage on Thursday July 10th at 8pm! Don't miss your chance to catch this tribute show to this Classic Rock group.
Formed in early 2013, Tuesday Afternoon faithfully reproduces all the classic songs of the legendary Moody Blues. All veterans of the New York music circuit, Tuesday Afternoon is the only tri-state area tribute to the legendary British rockers and they will be here in Annapolis MD to perform for you!
These Long Island musicians bring a 'concert quality performance' to every show! Tuesday Afternoon performs all of the most well known Moody Blues songs in addition to some of the more popular Justin Hayward solo songs as well.
This band of 5 gentlemen captures the element that the Moody Blues give to their audience. This is a true tribute band that will give you and experience to remember!
You can find more information about Tuesday Afternoon: A Tribute to The Moody Blues on their website:
tuesdayafternoonband.com
Or find them on Facebook:
facebook.com/pages/Tuesday-Afternoon
Zepparella
Monday July 21st at 8pm
Feeling 'Dazed and Confused'? Maybe you're overdue for a real rock concert! Zepparella will be at Rams Head On Stage on Monday evening July 21st at 8pm. Who says you can't use a Monday night to rock out!? Head out and get your 'Rock and Roll' on with the women that tread on the holy ground of Zeppelin. Zepparella explores their own improvised magic within the framework of Zepplin's mighty songs.
Zepparella is an all-female Led Zeppelin tribute band from San Francisco, California. The band began in 2004 founded by the drummer, Clementine. From the start of her musical career her goal was to be onstage every night, the pursuit of that goal lead to constant touring of the US and Europe. She tackles the best rock drumming ever written with her own emotional and powerful style.
2011 saw a new lineup, following the departure of vocalist Anna Kristina and bassist Nila Minnerok, who left the band to pursue other projects at the end of 2010. Zepparella is still hot as ever with the addition of vocalist Miaya Shambry and bassist Angeline Saris. In October 2011 Miaya left the band. She was replaced by Noelle Doughty.
These four women all share a common love for Zeppelin music and are able to share their talent with fellow Zeppelin fans. Their passion and dedication to their music really shines through while performing. Adding their own touch to the music is what makes this band so unique. Zepparella is a rock band to remember! Come hear these ladies rock it out!
Go to Zepparella's website:
zepparella.com
Check them out on Facebook:
facebook.com/Zepparella
Don't believe me!?

Satisfaction: The International Rolling Stones Show
Sunday July 27th at 8:30pm
You won't want to miss this! Satisfaction: The International Rolling Stones Show is coming to Rams Head On Stage on Sunday July 27th at 8:30pm! This is the experience of a lifetime only comparable to a REAL Rolling Stones concert.
"Satisfaction: The International Rolling Stones Show" is THE international touring tribute show to one of the world's greatest Rock & Roll bands. With over 1600 performances listed to its credit, this highly acclaimed production showcases the most authentic cast and costuming of its kind. The likes of Mick Jagger, Keith Richards and cast bring a colorful performance to 50 years of classic hits. Featured in Rolling Stone, Showbiz Magazine, Las Vegas Today, CBS Sunday Morning news and hundreds of national newspapers, magazines, television & radio, Satisfaction is by far the world's greatest show honoring the Rolling Stones and their legacy.
More than a million fans per year are impressed throughout the world, and The Rolling Stones themselves, have even taken notice of the "high energy way that these Satisfaction Stones tributes bring the Rolling Stones experience to the stage." From opening for such major acts as Lynyrd Skynyrd, Starship, Foghat, Nazareth, and Sammy Hagar, to current dates, Satisfaction Rolling Stones tribute band re-creates The Rolling Stones every time they take to the stage.
"One of the best tribute shows in the world" – Rolling Stone Magazine
"Satisfaction is a dead-on portrayal to the Rolling Stones" – Washington Post
Check Satisfaction: The International Rolling Stones Show's website here:
rollingstoneshow.com
And their Facebook!
facebook.com/satisfaction
Tusk: The Ultimate Fleetwood Mac Tribute
Sunday August 3rd at 8pm
TUSK : The Ultimate Fleetwood Mac Tribute band will be here at Rams Head On Stage on Sunday August 3rd at 8pm! This is going to be an awesome show that will keep your toes tappin' and hands clappin'!
TUSK covers all the great hits of Fleetwood Mac, which has featured the talents of Mick Fleetwood, Christine and John McVie, Lindsey Buckingham, Stevie Nicks and others over the years. The Fleetwood Mac story is an episodic saga that spans more than 30 years. It is the saga of a British blues band formed in 1967 that became a California-based pop group in the mid-Seventies. In between came a period where Fleetwood Mac shuffled personnel and experimented with styles, all the while releasing solid albums with chart topping hits such as "Landslide," "Rhiannon," "Go Your Own Way," "Don't Stop," "Dreams," "Say You Love Me," "Hold Me" and many others.
Fronted by solo artists Kathy Phillips on vocals and Scott McDonald on guitar and vocals, and supported by veteran musicians Kim Williams jamming on the keys and vocals, Randy Artiglere slappin' da bass and Tom Nelson rockin out on the drums, TUSK takes its audience members on a sweet ride down memory lane. Authentic-sounding and always respectful, TUSK leaves no stone unturned in replicating the sounds of one of the world's best-loved, top-selling bands.
Visit TUSK's site:
fleetwoodmactribute.com
And check out their Facebook page:
facebook.com/tusktribute
Technicolor Motor Home: A Tribute To Steely Dan
Friday August 8th at 8pm
Any Steely Dan fans out there!? Friday August 8th at 8pm Rams Head On Stage will have some special performers for you to jam out with. Technicolor Motor Home: A Tribute to Steely Dan and 2014 Rammie Award winner for Best Tribute Act is going to "go back Jack and do it again…"
"For years Steely Dan did not tour because their songs were too darn difficult to replicate on stage. And when they did tour, they had something of an orchestra in tow. So it was surprising to learn that a local group was tackling such elegant and beloved pop music. Led by Crack the Sky's keyboardist Glenn Workman, the band not only plays selections from every Steely Dan album, it does so with the necessary precision and passion, horns and back up singers included.
"Technicolor Motor Home proves you can buy a thrill – just check out one of their shows." -Baltimore Magazine
A mix of elegance and function, this 10 piece band plays its homage to the recent touring versions of Steely Dan. Their show includes material from every Steely Dan album as well as some gems from Becker and Fagen's solo projects and has won Baltimore Magazine's Best Tribute Band. This long time Annapolis band will not disappoint and will definitely make up for some Friday night fun!
Visit them here for more information about Technicolor Motor Home:
technicolormotorhome.com
7 Bridges: The Ultimate Eagles Experience
Thursday August 28th at 8pm
7 Bridges: The Ultimate Eagles Experience is a stunningly accurate tribute to the music of The Eagles. Using no backing tracks or harmonizers, 7 Bridges faithfully re-creates the experience of an Eagles concert from the band's most prolific period. Every show features one brilliant hit single after another with some mighty Don Henley and Joe Walsh surprises sprinkled into the mix.
"Take it Easy" on Thursday August 28th at 8pm with 7 Bridges at Rams Head On Stage, and who knows maybe you'll end up at "Hotel California"… 7 Bridges offers the perfect blend of songs to capture all levels of Eagles devotees. The band features Jason Manning as Glenn Frey, Keith Thoma as Don Henley, Bryan Graves as Randy Meisner/Timothy B. Schmit, Race Godson as Joe Walsh, Douglas Gery as guitar wizard Don Felder, and Vernon Roop as Joe Vitale, the often unsung hero of many Eagles studio albums and live performances.
Spice up your Thursday evening with life in the fast lane and throw back to the ultimate rock band from the 70's. Nothing but great things have been said about this dedicated tribute band from Nashville TN.
"Close your eyes and listen to 7 Bridges… WOW, they could be the real Eagles. Vocally and visually perfect. A great group of musicians who are consummate professionals. The ultimate Eagles experience."
-Ken Haidaris: President of Sunrise Entertainment
"I just wanted to let you know that I really LOVE your group. I saw you on July 31st in Warren Ohio and you guys are fantastic. This is my second year to see you there, and every time you come here I will be there listening to you. YOU GUYS ARE GREAT!! THANK YOU SO MUCH for making my night so enjoyable."
-Juliann M. McLennan
Warren, OH
Check out 7 Bridges' webpage here to find more information about the band:
7bridgesband.com
See their Facebook page here:
facebook.com/7bridgesband
Zoso: The Ultimate Led Zeppelin Experience
Thursday September 11th
Zoso – The Ultimate Led Zeppelin Experience formed in 1995 to perform the most accurate and captivating Led Zeppelin live show since the real thing will be at Rams Head on Stage Thursday September 11th at 8pm. For Zoso, it's much more than just being a tribute. It's about touching a golden era in music. Zoso embodies Page, Plant, Bonham and Jones in their spirit, tightly­wound talent and authenticity.
Zoso's live shows are not just about simply playing the right notes, but they are about aura and feeling, harkening back to the unique atmosphere Led Zeppelin created. It's in the way they play: Each band member's mastery of authentic vintage instruments coupled with spot­on vocals, guitar, bass, drums, and keyboards, their compelling stage persona and distinct Led Zeppelin sound, with astounding visual imagery recreates the music, magic, and mystery of a Zeppelin concert.
For all you Led Zeppelin diehard fans this may blow you away. Of course there is no touching the holy ground of the ultimate rock band, but if you close your eyes and listen you would be shocked Zeppelin isn't up on that stage! Zoso works hard to not only give the audience the effect of the true Zeppelin concert but an unforgettable experience because of how blown away you will be! Their passion, musical ability, showmanship and precise attention to detail earned them critical acclaim, name recognition and a loyal national following.
Click here for more information Zoso:
zosoontour.com
Check out their Facebook page here:
facebook.com/zosoontour
We hope to see you soon!